KENT REDEKOP *PREC - your Shuswap Lake real estate professional!
When it comes time to enter the ever-changing world of real estate, whether it be for the purpose of buying or selling a property, who you choose to represent your individual needs is the difference between stormy seas and smooth sailing!
With over 30+ years of top sales experience, Kent provides a fresh, innovative marketing strategy that exposes your home to the maximum number of potential buyers, while also being displayed in the most appealing way possible. Using cutting edge aerial videography, comprehensive interior and exterior photography, and an online presence unmatched by our competitors, Kent leaves no stone unturned when marketing your home for a swift, well price sale! In addition to that, using a qualified real estate agent to represent your interests is paramount when dealing with the sometimes difficult to understand language of contract law. As a licensed Realtor®, my goal is to assist in the navigation of these documents, as well as to protect you while maneuvering through the complex process of a transaction from start to finish. In today's online world, the Internet has become a great tool for Buyers and Sellers alike in terms of providing access to a wealth of property information. This has improved the knowledge of the public substantially, but what is much harder to learn is how to write a legally binding contract that protects your interests. I am here to help! As a Realtor® I have been trained in the art of contract law and you can rest easy knowing that you will be protected while moving through the property buying or selling process.
If you are looking to purchase real estate in the Shuswap region, I have you covered! With an unparalleled knowledge of the area, I can help you make an informed decision when faced with challenges and will guide you through this ever-changing market with confidence. Understanding current trends and the ebb and flow of the market is paramount to understanding where the market sits at the time you are looking to buy or sell. Kent has been the Top Producing real estate professional in the Shuswap region for Gross Dollar Volume Sold for the period 2006 through 2022, having sold over 1,017 properties in that timeframe totaling just under a half billion dollars' worth.
If it is waterfront that you desire, Kent has earned the nickname 'Mr. Shuswap' because he has single handedly sold over $242,000,000 worth of Shuswap waterfront property since 2006 and let me tell you, there is no better way to see the product than from the bow of a luxury Cobalt cruiser. Nothing says lifestyle quite like the Cadillac of the water . . . take in the great views with your feet up!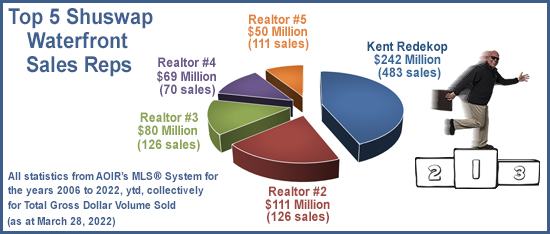 (All statistics are gathered from the Association of Interior Realtors MLS® System for the years 2006 to 2022, collectively, for Total Gross Dollar Volume Sold in the Shuswap region)
Kent's success in the Shuswap comes from over 18 years of previous sales experience as a REALTOR® in the Fraser Valley, where Kent worked as a top producing real estate professional from 1987 to 2005. This experience, paired with a drive and enthusiasm hard to match, makes Kent the clear choice to represent you as you navigate the often confusing, but fulfilling, world of real estate!
Looking to BUY or SELL real estate?
With proven results, dedication, and an exclusive marketing plan, Kent is the clear choice when looking to hire a real estate professional to either purchase or sell real estate in the Shuswap region! Welcome to the Shuswap . . . you're in Redekop country!

National production awards speak for themselves! Since his return to the Shuswap area in 2006, Kent has been recognized for his outstanding sales achievements every year, not only locally but nationally as well. Kent has been in the top 20 Realtors across Canada for total gross dollar volume sold, on three separate occasions, twice while at Century 21 in Salmon Arm, and once while licensed at Homelife Salmon Arm Realty. Kent's lifelong achievement speaks to his dedication and pursuit of excellence each and every year, as well as his longevity in the real estate industry.
Although the awards have many different titles, they all mean one thing, Kent has remained in the top percentile across the nation for years!
The Elite Club is the highest HomeLife sales award and Kent was thrilled to have achieved that status in 2021!
No awards are ever achieved alone and Kent values and appreciates all of his clients that make these things possible!
HOMELIFE NATIONAL

PRODUCTION AWARDS

2021 - Elite Club

(Gross Sales Commissions)

2020 - Pinnacle Club

(Gross Sales Commissions)

2019 - Chairman's Club

(Gross Sales Commissions)

2018 -Chairman's Club

(Gross Sales Commissions)

2017 - Chairman's Club

(Gross Sales Commissions)

2017 - Top 5% Sales Reps in Canada

(Gross Sales Commissions)

2016 - Chairman's Club

(Gross Sales Commissions)

2016 - Top 5% Sales Reps in Canada

(Gross Sales Commissions)

2015 - Chairman's Club

(Gross Sales Commissions)

2015 - Top 5% Sales Reps in Canada

(Gross Sales Commissions)

2015 - 6th Listing Sales in Canada
Kent receiving his 2015 HomeLife National Awards from Rick Dubord, president of BC's HomeLife Realty Services
(photos September 16, 2016)